National Plan For Teaching Swimming
The National Plan for Teaching Swimming (NPTS) takes the non-swimmer on a journey of fun and learning, from the very first splash to developing confidence and competence in and around the water.
The Swimmer's 'journey through aquatics' starts with FOUNDATION level, a Programme of swimming lessons to develop early years water confidence whilst having fun and learning, this essential element is encouraged through a timetable of 'adult and child' and 'pre-school' sessions.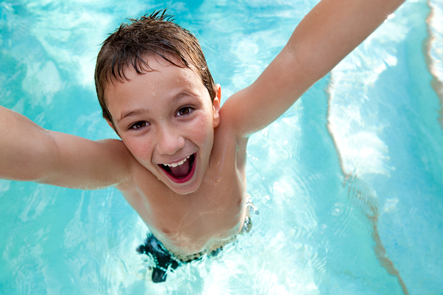 The emphasis is upon development of the most basic motor skills, while introducing the children to water and the swimming environment through fun and games.
The next stage along their 'journey' takes the Swimmer through:
FUNDAMENTAL MOVEMENT SKILLS, STAGES 1 to 7 of the NPTS.
Learn more about the detail behind the programme by visiting here.
Stage 1
Developing a child's basic safety awareness, the 'class' scenario, basic movement skills and water confidence skills. Swimmers are welcome to use swimming aids such as arm bands, floats, etc.
Stage 2
Developing safe entry into the water, including jumping in, basic floating, travelling on their front and back up to a distance of 5 metres, plus rotation to regain upright positions. Swimmers once again may use swimming aids, e.g. arm bands, floats, etc.
Stage 3
Developing safe entries into the water including submersion, travelling up to 10 metres on their front and back, progress rotation skills and water safety knowledge. At this stage, the Swimmer will be assessed without the use of swimming aids or support.
Stage 4
Developing a good understanding of buoyancy through a range of skills; refining kicking technique for all strokes and swimming 10 metres to a given standard as directed by Swim England.
Stage 5
Developing 'watermanship' by competently using sculling and treading water techniques; completing rotation skills and performing all strokes for a distance of 10 metres, to the given standard as provided by Swim England.
Stage 6
Developing effective swimming techniques to include co-ordinated breathing across all strokes, additionally swimming a distance of 25 metres using a stroke of the Swimmers choice; developing their water safety knowledge and an understanding of preparation for exercise.
Stage 7
Developing quality swim stroke technique up to 100 metres; incorporating skills learnt and applying them in developing a linked routine; successfully navigate an obstacle course that combines a variety of skills developed through stages 1 - 7.
Stages 8 - 10
Once the swimmer has developed the core range of skills required to be confident, competent and safe in and around the water, they will have the opportunity to take part in many different aquatic disciplines. These are as diverse as but not restricted to competitive Swimming, Diving, Synchronised Swimming, Water Polo and Rookie Lifesaving, all of which would be dependent upon demand.