How To Join and General Information...
Our swimming lessons in Swindon are based at the Ridgeway Leisure Centre in Wroughton and run after school Monday to Thursday and on Saturday mornings - in total we teach around 110 swimming lessons each week during term time. We do our best to run Lesson programmes within the pre-determined dates of the normal school term and provide progress reports on a term by term basis.
The swimming lesson programme is extensive with a mixed timetable each day covering a range of levels. We refrain from publishing the lesson plan as availability is fluid, changing continuously, so we encourage everyone to call our office to discuss your individual needs.
Please contact us on 01793 423126 or email us to discuss options.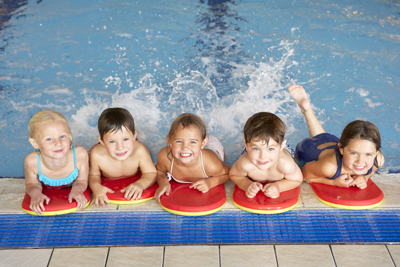 Should you need to leave a message please do so leaving your name and contact number and any other information you feel may help us prepare and we will call you back at the earliest opportunity. When we return your call you will be speaking to one of our Partners - a qualified Swimming Teacher, who will be able to assess your needs. Should there be a question mark over which swimming lesson plan would suit your requirements you may be invited for a trial, this way we can accurately assess ability.
We encourage you to share any concerns you may have - perhaps your child has health issues we need to be aware of or learning difficulties that you feel may hinder their ability to swim. It's very important we know about any issues in advance so we can find the right class and teacher for your child. Any information you share with us will be treated with the utmost confidence as per our privacy policy.
If you would prefer to e-mail us please use the 'Contact Us' page giving us an idea of your requirements and how best we might contact you to discuss a possible swimming lesson plan. We can then chat about any specific needs you may have and find the right teacher and lesson to suit your needs as a parent and those of your child.
We look forward to hearing from you.
General Information
What do I need?
Initially we all think swimming is easy to get involved in - a 'cossie', a towel and away we go. In the early stages of getting involved in the sport, that's not far wrong, however experience will always have something to say and here are some important pointers about choosing the right kit.
Costumes:
Please don't be tempted to look for expensive lycra costumes. They look great in the shop window but by the time you have learned to climb the pool side easily, they will not remain their original shape. Look in the sports shops, online and on the high street, for recognised makes such as Arena, Speedo or Adidas. Unless you decide on the lycra version, then your choice will last as long as it fits! Buy the costume close fitting and don't give too much room for growth as a baggy costume, like a drag net, is hard work to swim in. Keep an eye out for plain colours or last year's patterns which can be a lot cheaper... Please avoid the dreaded Bermuda shorts - they look great on the beach and that's where they belong!
Towels:
Yes we know a towel is a towel, however how about keeping a big bath towel (plain colours are favourite with the swimmers) just for swimming, so that you can sew on those hard earned Swim England Awards as a permanent keepsake.
Hats:
Ah the swimming hat, one of the least fashionable or hair friendly items of clothing ever made but and it's a big BUT, even big boy swimmers wear hats, except those that shave their heads of course which we are not recommending... Swimmers wear hats simply to keep their hair out of their eyes AND it does make them swim faster as they are more streamlined through the water so the sooner you get used to wearing a hat the better. The two most common types of hat are made from either latex or silicone and they both require looking after; after a swim rinse your hat in tap water, dry and cover with talc... It is a bit of a fuss but look after a hat will last for ages. Silicone hats are favourite with most swimmers, they are a little more expensive to buy but they do last longer. Both can rip if you have long nails so be careful.
But I took my arm bands off last week:
Artificial floating aids are used extensively at all levels of swimming teaching lessons and coaching. These include arm bands or discs, rings, costumes with floatation chambers, floats, leg floats, woggles and flippers. They all do a slightly different job, but broadly speaking will all give added benefit, comfort or confidence to a swimmer whilst they work on a particular part of a stroke.
The most obvious use is with the non-swimmer where floatation aids are used for two purposes, firstly as an immediate confidence booster as they are able to float around the pool in complete safety building their initial water confidence, which is absolutely essential. Secondly it allows the swimmer to move freely in any swimming position, enabling them to practice and perfect the arm and leg movements needed to both support and propel them through the water.
Many parents measure progress by how many arm discs are used and the speed they are removed and when that first 5m badge is achieved their child is a swimmer. The belief then is that they will never need arm bands or discs again, this is wrong; these floatation aids will continue to be used throughout the teaching process for some time to come. Even National standard swimmers use them as an aid to breaststroke drills.
So you should expect to see them being used for specific purposes:
To give added support where distance work is required for stamina.
To give added support ensuring the swimmer is safe.
To aid stability and movement in a swimming position when introducing new strokes.
To give confidence to the swimmer (and the teacher) whilst working in deeper water.
To relieve tiredness - perhaps when new skills are being introduced.
To give additional floatation when learning treading water skills.
To keep upper arms near the surface when working on arm movements.
So expect to see floatation devices used on and off throughout the Swimming lesson programme for many years to come.
But I'm hungry Mum...
There is nothing more frustrating than arriving at the pool, having fought your way through the traffic, simply to be told that there is no swimming lesson - someone has been sick in the pool!
We will not take any chances with our student's health and the water you swim in MUST be of the highest quality. If there is any doubt, in conjunction with the staff at the Centre, the teachers at the poolside will make the decision to cancel. In such circumstances the pool has a very specific procedure to follow and should, within an hour, be back in circulation.
HOWEVER on the basis that 'PREVENTION IS BETTER THAN CURE', we asked our resident nutritional expert, what should we be giving the children to eat after school but before swimming lessons?
Whilst the blood sugar levels will be fine as long as they have eaten within the last 3 to 4 hours, it is a fact that most children are usually starving most of the time. Clearly they think they 'need' something to 'keep them going until tea-time', so what can we safely give them? The answer is anything that is easily digestible such as plain sweet biscuits, ripe banana (i.e. Wimbledon...) washed down with some weak squash or diluted fruit juice - this will keep them going.
NOT recommended are fizzy drinks, sandwiches, chocolate and crisps these all contain higher levels of fat which are not easily digested.
We hope this helps but we also know that children will be children and accidents will happen. So please take sensible precautions that will help to keep us all in the swim.
Have you been ill recently?
In common with most public facilities and schools, we recommend that if your child has been ill or off school with a tummy bug or cold/flu type symptoms in the last 24 to 48 hours, you should not bring them to swimming lessons.
Can I wear goggles?
As a general rule the answer is no you don't need to wear them and we would prefer you didn't... but there are of course exceptions.
With the quality of water treatment in swimming pools today, there really are no problems in swimming for half an hour (the length of most Solutions swimming lessons in Swindon) without goggles. If you go on to be a serious competitive swimmer, with your face in the water for anything up to 6 or 8 hours a day, then there has to be a case for doing so.
There are two other key reasons, why the Solutions team don't like goggles used in the lesson programme:
Safety - there is a safe way to put on and take off goggles and getting it wrong can be very painful and damaging. The safe way is to take off the elastic from the back of the head first by doing this the risk of the goggles slipping and bouncing back onto the eye is removed. Sadly there are too many recorded cases of detached retinas, caused by swimmers pulling their goggles away from the eyes first and accidentally letting go.
Hearing - I know it will sound silly, but swimmers can't hear with goggles on and they insist on removing them every time the teacher talks to them or they want to talk to the teacher. It adds to the risk and due to the time it takes to get them back on and water tight simply wastes time in an all too short lesson.
Learning - swimming underwater and encouraging the children to do so and keep their eyes open is a key part of the learning process and a key skill the children need to master.
Our advice therefore is that goggles are not used - actually we simply don't allow them in our swimming lesson programme - certainly not until you reach level 4 and then only if really necessary
Now we come to the exceptions:
Medical - there might of course be medical reasons why they have to be worn.
Poor sight - there is no reason why ordinary glasses cannot be worn in the water.
For swimmers that must use goggles (level 4 and above) that have sight problems, prescription goggles are available. Costs are not prohibitive and we can put you in touch with a specialist supplier if needed.