Policies and Conditions of Enrolment
Payments
We would like to advise that payment is due in full prior to the swimming lesson programme commencing – This is of course unless prior arrangements to the contrary have been made with one of our Partners – Our costs will remain consistent.
Refund Policy
We apologise but due to each class being limited in numbers and children being turned away when a class is full, we are unable to refund payment as the commitment to the cost of each programme will have already been made.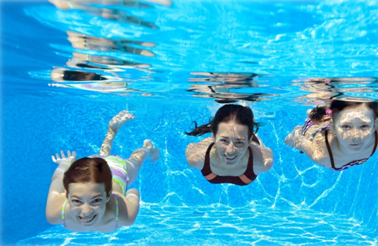 Medical & Special Needs Declarations
There is an obligation on the part of parents, guardians and carers to formally advise Solutions Swim School at the time of enrolment for each term and subsequently if necessary, of all medical conditions (including any special needs or learning difficulties) that may impact upon their swimming lessons and the way in which the teachers and assistants interact with your children.
Cancelled Lessons
Payment made for swimming lessons in Swindon that are cancelled by Solutions Swim School will normally be credited towards next terms course, unless otherwise agreed.
Pay for what you use
Here at Solutions Swim School we make sure that you never pay for swimming lessons you don't use during school holidays by calculating our cost structure on a term by term basis.
Videos & Photography
This is a sensitive issue and we reserve the right NOT to allow the use of photographic equipment on the premises. If you would like us to ensure that cameras or mobiles are not used at all whilst your child is swimming, please advise Solutions at the time of booking.
If you are concerned at any time, that a parent or other spectator is talking photographs of the children in an inappropriate manner, please advise a member of our team immediately.
Equity
Solutions is committed to ensure that equity policies are followed throughout the operation of the swimming lesson programme in accordance with the policies laid down by Sport England and the ASA.
Sports equity is about fairness in sport, equality of access, recognising inequalities and taking steps to remedy any issues. It's about changing the culture and structure of sport – to make it available to all.
We respect the rights, dignity and worth of every person and will treat everyone equally within the context of their sport, regardless of age, ability, gender, race, ethnicity, religious belief, sexuality or social/economic status.
All Solutions customers, partners and staff have a responsibility to oppose discriminatory behaviour seriously & appropriately.
Disability & Special Needs
Solutions Swim School welcomes anyone that wants to be part of our swimming lesson programme and we will actively seek to find a way of integrating everyone. We will work closely to understand any specialist needs, taking any professional advice deemed appropriate and will do everything possible to provide a teacher with the relevant skills and experience to work with the children. To ensure quality of teaching we may need to restrict the number of cases of disability/special need in each class.
Equal Opportunities
Equal Opportunities formally allows the celebration of difference and diversity and as such we provide a swimming lesson structure that can respond to this in a proactive and positive manner. Solutions Swim School are totally committed to embracing the principles and practice of Equal Opportunities, both as an employer and service provider.
In particular, Solutions Swim School recognises:
The need to ensure that swimming is accessible to all.
The diversity of provision required to ensure that all, regardless of their race, sex or gender, disability, age, sexual orientation, social or economic background, can access swimming lessons and develop at a level that is appropriate to them.
The need to celebrate difference and diversity by providing a programme that creates entitlement and accessibility;
That equal opportunity is about acknowledging that people are both individual and different and may require different provision.
The need to consult widely in order to respond to diversity.
In addressing Equal Opportunities, Solutions Swim School will:
Recognise that we must all work hard to adapt, with flexibility, in order to respond to the needs of a wide and diverse range of individuals.
Take positive action to increase the involvement of under-represented groups, in all aspects of our organisation.
In doing so, Solutions Swim School supports four key principals:
Entitlement – People have the right to access and participate in quality and appropriate experiences within the sport of swimming.
Accessibility – It is our responsibility to adapt provision to fit the needs of the many.
Inclusion – Wherever and whenever possible, it will be made possible for all to access the same quality of provision and if necessary use positive action to ensure this.
Integrity – Whatever we do, to change or adapt provision it must be of equal worth, challenging, relevant and in no way patronising.