Policies and Conditions of Enrolment
Policies
Cancelled Lessons
Payment made for cancelled lessons will normally be credited towards next terms course, unless otherwise agreed.
Videos & Photography
This is a sensitive issue & we reserve the right NOT to allow the use of photographic equipment on the premises. If you would like us to ensure that cameras or mobiles are not used at all whilst your child is swimming, please advise Solutions at the time of booking.
If you are concerned at any time, that a parent or other spectator is talking photographs of the children in an inappropriate manner, please advise a member of our team immediately.
Equity
Solutions is committed to ensure that equity policies are followed throughout the operation of the lesson programme in accordance with the policies laid down by Sport England & Swim England.
Sports equity is about fairness in sport, equality of access, recognising inequalities & taking steps to remedy any issues. It's about changing the culture & structure of sport - to make it available to all.
We respect the rights, dignity & worth of every person & will treat everyone equally within the context of their sport, regardless of age, ability, gender, race, ethnicity, religious belief, sexuality or social/economic status.
All Solutions customers, partners & staff have a responsibility to oppose discriminatory behaviour seriously & appropriately.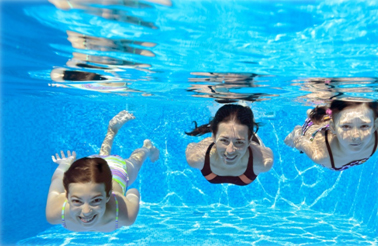 Disability & Special Needs
Solutions Swim School welcome anyone that wants to be part of our lesson programme & we will actively seek to find a way of integrating them. We will work closely to understand any specialist needs, taking any professional advice deemed appropriate & will do everything possible to provide a teacher with the relevant skills & experience to work with the children. We may need to restrict the number of cases of disability / special need in each class.
Equal Opportunities
Equal Opportunities is about celebrating difference & diversity & as such provide a swimming structure that can respond to this in a proactive & positive manner. Solutions are totally committed to embracing the principles & practice of equal opportunities, both as an employer & provider of services.
In particular, Solutions recognise:
The need to ensure that swimming is accessible to all rather than the few;
The diversity of provision required to ensure that all, regardless of their race, sex or gender, disability, age, sexual orientation, social or economic background, can access swimming & develop at a level that is appropriate to them;
The need to celebrate differences & diversity of provision as a means of creating entitlement & accessibility;
That equal opportunity is about acknowledging that people are different & may require different provision;
The need to consult widely in order to respond to diversity.
In addressing Equal Opportunities, Solutions will:
Recognise that we will all work to adapt & work with flexibility in order to respond to the needs of a wide & diverse range of people;
Take positive action to increase the involvement from under-represented groups in all aspects of our organisation.
In doing so, Solutions supports four key principals:
Entitlement - people have the right to participate in & access quality & appropriate experiences within our sport;
Accessibility - it's our responsibility to adapt provision to fit the needs of the many;
Inclusion - wherever & whenever possible, it shall be possible for all to access the same quality of provision & if necessary to use positive action to ensure this;
Integrity - whatever we do, to change or adapt provision it must be of equal worth, challenging, relevant & in no way patronising.
GENERAL DATA PROTECTION REGULATION (GDPR)
In line with new Data Protection laws that came into effect on 25th May 2018, we have updated our Privacy Policy to enable us to be General Data Protection Regulation (GDPR) compliant and to give our customers confidence on how we look after the personal data entrusted to us.
Compliance with GDPR:
As a Swim England Swim School Member, we will only contact you about information relating directly to your involvement (or your child's) in our lesson programme. In participating in our lesson programme, you can be assured of our commitment to remain compliant with GDPR and our intention to adopt best practice in this key area of our administration.
We take this opportunity to repeat our intention, to adhere to the Data Protection Act principles contained in the GPDR as follows:
Lawfulness, fairness and transparency
Purpose limitation - data collected for a specific, explicit and legitimate purposes and not processed in an incompatible way
Data minimisation - adequate, relevant and limited to what is necessary
Accuracy - where necessary kept up to date
Storage limitation - kept in a form which permits identification for no longer than is necessary
Integrity and confidentiality - the new security principle specifies protection against unauthorised or unlawful processing and against accidental loss, destruction or damage using appropriate technical or organisational measures
Accountability - a Data Controller will take responsibility for and be able to demonstrate compliance with the DPA principles
As a Swim England Swim School Member we undertake:
To appoint a Data Controller who will control how personal data is collected, stored and used on behalf of the Swim School. They will also take responsibility for maintaining any records necessary to demonstrate compliance with GPDR and ensure that such data is not retained longer than necessary
Only use your personal data, to contact you on any issues directly concerned with the lesson programme you (or your children) are participating in.
The data collected will be restricted your name(s), addresses, telephone contact details, and any relevant information about health or learning difficulties relevant to participation in our lesson programme. Such information will only be made available to our Partners and Swimming Instructors on a strict need to know basis.
We will not share or sell your data to any 3rd parties
No "cookies" on our web site will harvest your personal data for use by, or sale to a third party. No personal ID / passport or payment card data will be kept electronically or otherwise by the Swim School
You can easily-opt out from receiving information from us at any time - to unsubscribe simply advise our Data Controller in writing but in so doing, we would be unable then, to advise you of last minute closures etc.
To supply a copy of personal data held, at no cost, on application to our Data Controller in writing.
To ensure that data is only retained for as long as it is needed
Data Controller:
As a Swim England Swim School Member, we remain totally committed to looking after your personal data in a responsible manner and in accordance with the guiding principles outlined in this policy.
Should you have any concerns about the way in which we handle your confidential data, please contact our Data Controller:
Dennis R Yeoman
Partner
Solutions Swim School
94 Bath Road, Swindon, Wilts
Tel: 01793 423126
e-mail: info@SolutionsSwimSchool.org

DRY/Version 1.0/25th May '18
COVID 19 Measures
We have been working hard with both Ridgeway Leisure Centre and Swim England to ensure that we can get your children back to swimming in a controlled environment which is safe for them, yourselves and our Teaching Staff. We will take responsibility for ensuring that all lessons, are safe, comply with our risk assessments, agreed with Ridgeway, and meet the latest guidelines imposed by HM Government.
Entry to Centre
All Solutions customers will use the balcony entrance into the pool and be ready enter the pool 5 minutes prior to the start of the lesson.
Please use the hand sanitiser in the entrance area. Parents are encouraged to continue to use face coverings whilst on the premises.
Only 1 adult per family will have access.
Social distancing stickers will be on the top benches by the windows and the bottom benches by the balcony rail.
The middle row will be used as a walkway.
Changing
Please bring your child already dressed in swim suit under loose clothing, tracksuits or onesies - changing prior to swimming will take place on the balcony.
Please go to the far end and fill the seating spots.
- Children in Stages 1-3 use the balcony benches by the rail...
- Children in Stages 4 and above use the balcony benches by the windows.
Children, once un-dressed will meet their teacher on poolside when called
- Children in Stages 1-3 use shallow end balcony gate.
- Children in Stages 4 and above use deep end balcony gate.
One toilet will be made available . Children to be escorted by their parent. Please both use hand sanitiser and spray wipe handles before returning your child to the teacher.
At the end of the lesson, parents can meet the swimmers in the changing rooms where they can dress ready for the journey home.
Equipment
We have purchased new floats which will only be used for Solutions swimmers, ensuring that we can control the sanitisation needed between classes.
Wednesday Evening Late Session
For the classes at 5.30 PARENTS WILL BE EXCLUDED. Please send your child into the pool main entrance. They will need to walk onto poolside using the door between the girls and boys changing rooms. Lane 1 will go to the blue benches on the balcony side, Lanes 2-4 will use the seating on the opposite side of the pool. Swimmers need to undress to their swim wear, put their clothes in their bag and put it onto the bench.
- Lanes 1 and 3 will work from the shallow end.
- Lanes 2 and 4 will work from the deep end.
Swimmers need to come with swim wear under tracksuits, onesies or loose clothing and at the end of the session the changing rooms can be used.
Teachers – Use of Medical Room This will be used only as a medical room, to alleviate constant cleaning. There are hooks in the boys changing rooms, which will be locked at the corridor door, where you can leave your coats. Bags can be left on the benches near where you are teaching.